Reverend Sala Sekiya is the Resident Minister at the Seattle Betsuin Buddhist Temple. Born and raised in Japan, Rev. Sekiya finished high school in the USA and has a BS in Hospitality Administration from Boston University. Sensei was ordained in 2012 and served the Shomyoji temple in Shiga, Japan prior to transferring to the Buddhist Churches of America and being assigned to the Seattle Betsuin in September 2015. She is a Hongwanji-ha certified Special Rituals Minister. Email »

Newly retired Rimban Don Castro will still be providing support for the temple until a new Rimban is appointed. He will share responsibilities for memorial services, Sunday Dharma talks and other temple duties.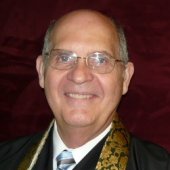 Reverend Jim Warrick shares ministerial duties with Reverend Castro. After studying for several years and serving as a minister's assistant, in 2003 Warrick sensei received Tokudo ordination as a Buddhist priest from our mother temple, the Nishi Hongwanji in Kyoto, Japan. He continued his studies and in 2008 Warrick Sensei received Kyoshi certifcation from the Nishi Hongwanji and was recognized by the Buddhist Churches of America as a part time Kyoshi minister at the Seattle Betsuin. Email »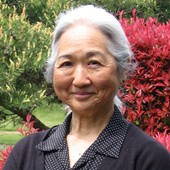 Minister's Assistant Irene Goto became a certified Minister's Assistant in the summer of 2011. "Through high school I attended a Christian church because there was no Buddhist temple near our home. In the mid 80's when my daughter was in kindergarten she asked me to take her to this place called "church" so I decided to take her to the Buddhist Church. I was pleasantly surprised to find that what the ministers at Seattle Betsuin were teaching resonated with my views. I've been attending, participating, and listening ever since. I hope to help keep the Dharma resonating."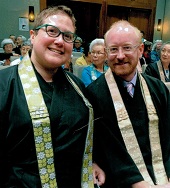 Minister's Assistants Matt & Rosalie May were certified as Minister's Assistants in the fall of 2013 and went on to receive their Tokudo ordination together in the summer of 2016 at our mother temple, the Nishi Hongwanji in Kyoto, Japan. Matt works for Adobe and manages their Accessibility organization.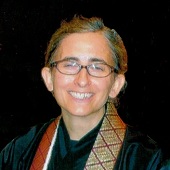 Minister's Assistant Leonora Clarke became a certified minister's assistant in the fall of 2013. She has a degree in Comparative Religions and has completed the two year Jodo Shinshu Correspondence Course offered by the BCA's Jodo Shinshu Center. Leonora works for the University of Washington School of Medicine.
Minister's Assistant Joe Schwab is one of the four members of the Seattle Betsuin's first class of Minister's Assistants who received certification in the summer of 2005 (the others were Bill Hirsch, Kevin Tanemura and Jim Warrick). Joe, along with the temple's other Minister's Assistants, volunteers at the temple helping to deliver the temple's religious services. They also assist Rinban in supporting our sister temples in eastern Washington.