English Seminar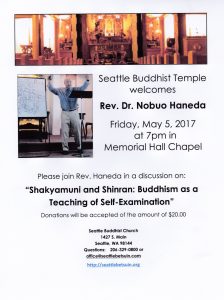 Everyone is welcome to join us Friday, May 5, for a lively discussion with Rev. Dr. Nobuo Haneda on the topic, "Shakyamuni and Shinran:  Buddhism as a Teaching of Self-Examination." Dr. Haneda is the director of the Maida Center of Buddhism in Berkeley, CA and author of "Dharma Breeze: Essays on Shin Buddhism." The seminar starts at 7 pm in the temple's Memorial Hall Chapel. Program is free, but donations accepted.  Suggested donation is $20.
Japanese Seminar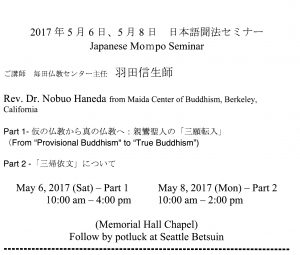 The Japanese Seminar is offered in two parts. It begins on Saturday, May 6, from 10 a.m. to 4 p.m. and continues on Monday, May 8, from 10 a.m. to 2 p.m.
See registration form.