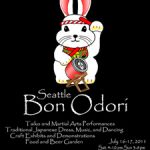 Bon Odori is a traditional summer festival in which we honor our ancestors who have passed on, remember and appreciate all they have done for us, and celebrate their ongoing presence in the lives we enjoy today.  Join us this weekend (July 16 and 17) for traditional Japanese food, dancing, martial arts and exhibits. We will also be giving tours of the o-naijin, where we hold weekly services.
Bon Odori festival times are:  Saturday, July 16, from 4pm to 10 pm and Sunday, July 17, from 3 pm to 8 pm.
Saturday's dance schedule:
5:00P Matsuri Taiko performance
5:50P Mi Kokoro
6:10P Dai Tokyo Ondo
6:26P Seattle Omoide (casta)
6:37P Shiawase Samba
7:00P Oyama Ondo
7:10P Nembutsu Daiko
7:22P Hanagasa Ondo
7:35P Matsuri Taiko performance
8:15P Dai Hiroshima
8:25P Hanabi Ondo
8:45P Yakyu Ken Ondo
8:55P Soran Bushi
9:05P Tanko Bushi
9:30P Zen Koku Ondo (lantern)
9:45P Goshu Ondo
Sunday's schedule:
3:30P Matsuri Taiko performance
4:00P Seattle Kendo Kai (Kendo demonstration)
4:50P Mi Kokoro
5:10P Dai Tokyo Ondo
5:20P Shiawase Samba
5:30P Nembutsu Daiko
5:50P Hanagasa Ondo
6:00P Seattle Omoide
6:20P Matsuri Taiko performance
6:55P Oyama Ondo
7:05P Dai Hiroshima Ondo
7:25P Hanabi Ondo
7:35P Tanko Bushi
7:45P Soran Bushi
7:55P Goshu Ondo
Dance practice ran from 7:30 to 9 pm in the temple gym for five evenings, July 6-8 and July 11-12.  If you missed the practices you can brush up on the steps at home with the help of the videos below.